Log Cabin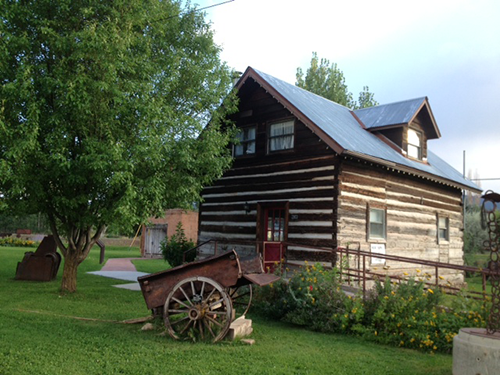 The historic Log Cabin was built in 1887 by Carbondale Pioneers Oscar Holland, Samuel Bowles and Myron Thompson. It was occupied as a residence for more than 100 years, and was located not far from where it now sits at the intersection of Weant Blvd. and Highway 133.
The two-story cabin is constructed of large hand-hewn logs and was heated by a wood stove. In 2006, the cabin building was donated to Mt Sopris Historical Society and moved to its present location, where it became, a repository for historical artifacts and information.
This site includes a small research library containing books and other materials, and an extensive collection of early Carbondale business journals and ledgers dating back to the 19th century.
The Log Cabin has long been a favorite with school groups, tourists and local residents who seek an understanding of Carbondale and the lives of its homesteaders, farmers, cowboys, ranchers, families and railroad workers.
The Log Cabin and Jailhouse Museums are conveniently located on the public bike path, along the Colorado Scenic By-way West Elk Loop Route at 499 Weant Boulevard, Carbondale, CO. The grounds are always open to the public. Inside tours of the buildings are currently by appointment. Contact us for more information.
View Larger Map