THE 2015 SHINDIG at the RVR Barn
Details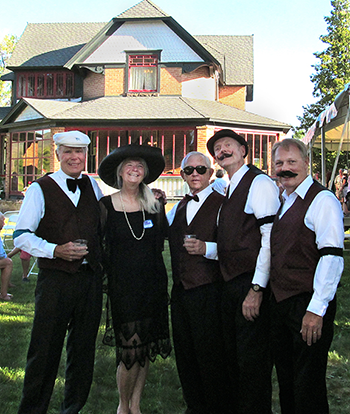 Sunday, August 9th from 5 to 8pm
for the Mt. Sopris Historical Society's
2nd Annual Shindig


This years event will be held at the Old Thompson Barn
at River Valley Ranch (RVR)
Tickets $75

The RVR Barn will be furnished with historic agricultural and ranching artifacts from the Hattie Thompson and Thompson House Museum collection, plus archival photos of historic Carbondale. Hattie Thompson herself will be there — in spirit. This historic matriarch, as interpreted by a local living-history actress, will be milling amongst the period-costumed guests as they enjoy homemade barbecue and music provided by local talent. The second annual Hattie Thompson Award will be given to a woman who exemplifies Hattie's pioneering spirit and has enriched the community.
The Shindig will be an event of the sort area residents would have enjoyed during Hattie Thompson's heyday more than 100 years ago. Get your old-time get-up on and don't miss this delightful journey into Carbondale's not-so-distant past. The evening supports the Historical Society's efforts to share local history and bring to life the stories of the families, ranchers, merchants and miners who built our Roaring Fork and Crystal Valley communities.
online, by mail, at Skip's Pour House or The Shindig
please see information below.

** (PLEASE NOTE: Tickets purchased online or via mail
will be available

for pick up at
The Shindig
registration table
on the day of the event!)
to

purchase tickets online
click on PayPal button below
to

purchase tickets by mail
Please mail check to address below
and include the names of people that will be attending the event
Mt. Sopris Historical Society
PO Box 2, Carbondale, CO 81623
We are thrilled to announce that Charlotte Graham and many of the characters featured in her new book, Memories of a River... Up The Crystal Volume II, will be joining us for a unique book signing opportunity on August 9, from 5-8pm at the the Old Thompson Barn at River Valley Ranch for our second annual Shindig! We hope you will join us for this special event, where you can meet some of our community's cherished old timers and purchase copies of the book directly from the author.